Hello. I'm Pete Jeans, acknowledged leader, successful mentor  and  story-telling speaker.
The presentation themes below  can be customised  to suit your conference or forum theme. Your key messages can be embedded in the presentation content.
Workshops can be developed to  engage and add relevant value for your audience, staff, guests and stakeholders; and to explore and discuss your issues. 
---
Sometimes openly highlighted in annual reports, staff churn is a very serious issue. It's the underbelly of business we  arguably understand poorly and perhaps handle badly?
Staff churn rates are a strategic issue for any organisation. Costs are potentially huge. Losing key talent can be disastrous in the short term.
What's covered?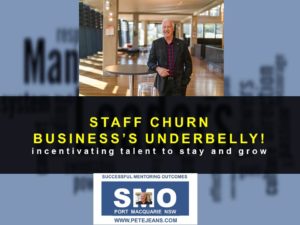 -how to incentivate talent to stay
-do staff turnover management models have merit?
-positive culture platforms
-managing the unjustified concept of entitlement
-motivating Gen X and Gen Y
Today, employers have to offer much more than competitive rates of pay and benefits. Today, employees expect their employers to be socially responsible.
Today, employees will leave if the organisational culture doesn't meet their expectations
---
Many of Australia's most significant organisations have formalised innovation resources and activities. Some don't. And, at the SME organisational  level, how many outfits are pursuing innovation as a platform for success? No-one really knows.
Innovation and its peripheral issues like product development  and disruption seem to have little standardisation around best-practices processes, techniques, tools and evaluation.
What's covered?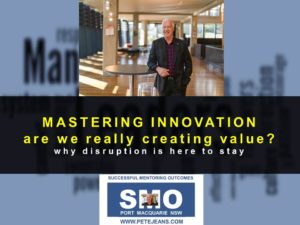 -first-to-market with real innovation has the advantage !
-map your markets first to find  serviced and un-served  customer/product/service segments
-map your customer segment's unsatisfied needs
-allocate adequate development budgets
-establish teams to search for new value
-go deep with market segmentation
-persist and innovate with best-practice innovation processes
Worse still, disruption gets lip-service in corporate arenas; largely because few actually understand the power of this concept.
Disruption will become common-place. Those that avoid adopting disruption as a core activity will disappear.
---
For emerging leaders and non-qualified marketers, join Pete Jeans'  60 minute strategic marketing  journey as he shares tricks, traps and techniques for getting up to speed more quickly than your peers.
What's covered?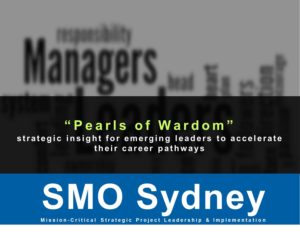 The Art Of Strategic Marketing War – Pearls of Wardom
-survive, grow and compete
-accelerate your career
-12 critical success factors
-how to create value every day
-pearls of wisdom to make and save money
Pearls of Wardom keynote presentation captures  and delivers strategic and operational insight which will powerup YOU and your team leaders to compete more effectively.
Motivate your team leaders to ACT tomorrow.
Learn some of the tricks and techniques of professional marketing practice. Share Pete Jeans' learnings and insights of a successful leadership career.
The Art of Strategic Marketing War –

Pearls of Wardom…shares insights around the art and science of strategic business war.
---
This DISRUPTION presentation defines the essence and truth for embarking on the disruption journey to successfully and profitably engage previously unserved customer segments.
What's covered?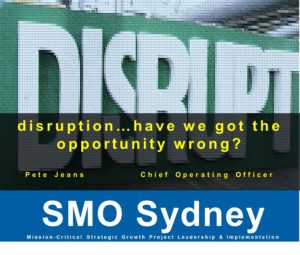 –disruption is NOT about new products
-map your markets first to find un-served segments
-allocate adequate development budgets
-establish teams to search for new value
-go deep with market segmentation
-first-to-market has the advantage!
– persist and innovate
disruption occurs because a new business model has successfully engaged and attracted customers groups that were previously not viable to serve
---
This STRATEGIC PLANNING presentation leads emerging leaders through strategic  processes which put customers at the centre of their future success.
What's covered?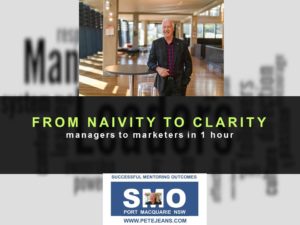 –from naivety to clarity
-how to develop a superior VP
-focus your marketing & sales teams
-customer & market insight is key
-price is the cost of your value
-how to attract and keep customers
-setting budgets
-the problem and opportunity of social media
---
This  BATTLE READY presentation stimulates and motivates emerging leaders to consider key issues when faced with significant competitive challenges.
What's covered?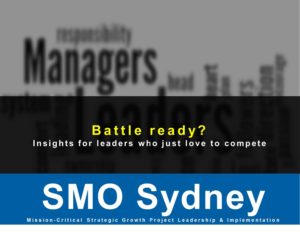 –
commit to compete
-metrics for performance
-focus through growth project teams
-tighten-up your business model
-ideas and innovation processes
-clarity around your value proposition
persist, persist, persist
---
This HOW HEALTHY IS YOUR BUSINESS? presentation proposes ten key result areas where leaders need to focus to ensure healthy business growth. 
What's covered?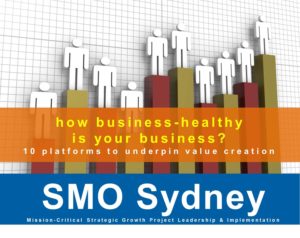 -are your KPI's adequate?
-to survive, you must grow
-to grow, you must compete
-to compete, you must be different and better
-do nothing other than create value
-be proactive.
Passive is probable corporate death
unhealthy is corporate death
---