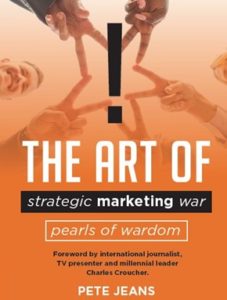 It's my  pleasure to allow you to review chapter one free !
The Art of Strategic Marketing War – Pearls of Wardom.
Insight for emerging and current leaders to accelerate their career development.
OR BUY THE WHOLE EBOOK FROM AMAZON AT $4.99 ONLY !
Here's some Chapter One detail that might peak your interest !
1.1  Opportunities are still there for focused outfits
1.2  How do you know when you need to transform your business?
1.3  Compete! The only growth platform that matters
1.4  The key to growth is confidence around clarity
1.5  Don't accept mediocre strategy preparation and development
1.6  Market research costs are a future investment that pays off in spades
1.7  Are your hands tied often because information quality and delivery are poor?
1.8  Consultants… who should you retain to drive clarity?
1.9  How vulnerable are we to business risks?
1.10 Is your new opportunity and idea generation momentum slowing?
1.11  Tips for getting ready for a slowdown
---