---
April  9, 2019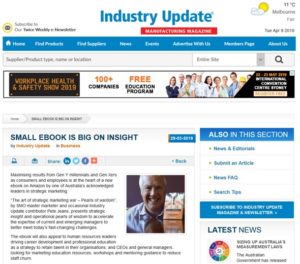 SMALL EBOOK IS BIG ON INSIGHT
Australia's largest circulation print and online manufacturing magazine INDUSTRY UPDATE published this article recently.
Click through here to read the full article
Maximising results from Gen Y millennials and Gen Xers as consumers and employees is at the heart of a new ebook on Amazon by one of Australia's acknowledged leaders in strategic marketing.
"The art of strategic marketing war – Pearls of wardom", by SMO master marketer and occasional Industry Update contributor Pete Jeans, presents strategic insight and operational pearls of wisdom to accelerate the expertise of current and emerging managers to better meet today's fast-changing challenges.
The ebook will also appeal to human resources leaders driving career development and professional education as a strategy to retain talent in their organisations; and CEOs and general managers looking for marketing education resources, workshops and mentoring guidance to reduce staff churn.
---
November 27, 2018
Conceptually, Pete Jeans has taken the most trusted playbook in history and turned it into a guide to maximising your results from millennials as consumers and employees.
As Sun Tzu said; "Victorious warriors win first and then go to war".
This book puts you on the path to victory.   
Charles Croucher.  International  TV correspondent.  Los Angeles.  USA.
---
February 22, 2019
"Pearls of Wisdom" a short quick read with strategic marketing insights that last long-term.
Lisa Skrdlant.  President.  BBM Strategic Marketing.  Florida.  USA.
---
Feb 24, 2019
For anyone in the marketing business or anyone thinking of taking up a career in marketing, or looking for ways to improve their business,  can I recommend Pete Jeans's  book "The Art of Strategic Marketing War -Pearls of Wardom".
I've known Pete for many years and he's as knowledgeable, professional and insightful as anyone in marketing, and if you don't believe it's war, just look at Coles and Woolworths as one example.
The book is written simply in understandable language and gets to the point. A very simple point…attracting customers to your business.
Grab a copy!
Tim Webster.  Radio and TV Broadcaster.  Currently host of weekdays on radio 2CH Sydney.  Australia.
---
January 16, 2019
There's something for every commercial professional in Pete's book.
For the novice, it's a solid introduction to the power of  strategic planning. For the business practitioner, it's a timely reminder of the foundations of smart marketing to address current and new opportunities. For the seasoned executive, it's the refresher required to reinvigorate forward thinking and thought leadership.
A must-read at each career stage.
Iggy Pintado.  Managing Director.  IDC Australia/New Zealand.
---
October 28, 2018
I was able to read The Art of Strategic Marketing War – Pearls of Wardom, on a flight from Sydney to Adelaide. This tiny, unpretentious book is absolutely dripping with strategic marketing insights.
The Art of Strategic Marketing War – Pearls of Wardom helps boards and executives develop a useful, high-level framework against which current and emerging market opportunities can be evaluated, resourced and tracked.
The book also provides a very useful business checklist that is relevant to private, public and NFP enterprises.    
Harry Petropoulos.  Founding  Director.  
RedPill Performance Consultants.  Sydney.  Australia.
---
---
November 18, 2018
Let me say at the outset that I found this to be a very valuable, insightful and thought-provoking read.
It clearly demonstrates your extensive experience and knowledge.
I think it is a book that every marketing executive, ad agency, and senior manager should read. 
But it is equally useful for students and starters in the business world.
I liked what you talked about in "Loners". I have met many "mavericks" in the sales and marketing arena—and they are always worth listening to.  But it is challenging because they don't always fit in the box and do things in an unconventional way. They are often not team players but if you can analyse what they do differently from the pack, that insight will help you rise above the pack too. They can actually help raise the bar for the whole organisation.
I also liked your comments about the importance of product development. It's an area where I have had significant international and local experience in FMCG companies. But I feel that it should be led by the category management team and not by a specialist Product Development manager outside of that team. This seems only to create more tension and conflict, waste of time and cost, convincing someone outside the team of the importance of their direction (assuming it is based on sound research).
Great book. Well done !    
Mike Godfrey.  Director.  Godfrey and Associates Pty Ltd.  Training and Consulting.  Author "Targeted Selling".  Sydney.  Australia.
---
February 22, 2019
For all marketers out there who want/have a business or an idea to start one, check out a great cheap informative book on the nitty gritty in a simple format – you won't be disappointed – The Art of Strategic Marketing War.
Richard Jeans.  TV Sports Producer.  Melbourne.  Australia.

---
February 22, 2019
At a time when the trend is to gain information in bite-sized pieces, Pete Jeans'  The Art of Strategic Marketing War– Pearls of Wardom offers the perfect publication to not only whet, but satisfy the appetite for best practice in strategic marketing.
While promoted as a guide to engage millennials in the current world of strategic marketing, this pocket-sized edition also serves as a handy reference and reminder of the principles to gain and keep business (without bloodshed) for those who may have experience of many decades in this field.
Robyne Young, Principal, Promotions from the Pen. Australia.
---
February 22, 2019
Now available on Amazon. Check it out. It's a great read.
" I loved The Art of Strategic Marketing War.
Its a fresh take on strategic marketing in an easy to read pocket-size take-anywhere book which will add value to any organisation."
Sharry Eavis.  Director.  Melbourne.   Australia.
---
January 18, 2019
I enjoyed the simplicity and layout of this great little handbook. It was quick to read initially.
I found myself referring back to some sections and suspect it will become more useful over time as part of a manager's tool box and for future reference.
The content is well researched, relevant and modern in its approach with practical and experiential tips, and space to make your own notes.
I have already passed my copy onto a mentee and emerging business leader; hopefully to support new ideas and strategic thinking during her upcoming trip to the USA.
A fresh perspective is always good and therefore a recommended read.
Jane Evans.  Health Manager.  N.S.W.   Australia.
---
 January 17, 2019
In this book, the Art of Strategic Marketing War – Pearls of Wardom, Pete explores the key challenges to business success in today's environment, and provides a comprehensive and structured framework for appreciating and addressing these.
Not your typical business book, the easy to read and bite-sized format is jam packed with thought-provoking questions, suggestions and strategies that any business leader will provide valuable.
While the text is generally oriented toward profitable business growth, the principles it espouses are equally as applicable to profit-generating businesses, as it is to customer or service oriented public sector and not-for-profit organisations.
As the title suggests, this book offers an invaluable resource full of pearls of wisdom (or wardom) that will strike a chord with emerging and experienced business leaders alike.
Alex Fisher.  Port Macquarie.  Australia.
---
January 17, 2019
A very comprehensive book referencing "Pearls of Wisdom" in Strategic Marketing. This book offers so many thoughts that are so relevant to business in today's environment.
I really liked the emphasis placed on customers – their needs and also how they are treated. Fantastic customer service should be the basis of all businesses and the book certainly highlights this aspect.Too many businesses focus on working in the business and not using a helicopter view – planning for the future.
It was interesting to see the book focuses on Gen Y and X because there certainly is a difference between the thinking of these demographics compared to the Baby Boomers.
The more you read the book and absorb the points the greater value it is to you. I would certainly recommend it to other business decision makers.
Janette Hyde.  President.  Greater Port Macquarie Tourism Association. Australia.
---
January 12, 2019
This book appears at first as a quick read but it deserves a thorough perusal to uncover the gems forged by the author's considerable experience.
Grahame Turk.  A.M.  Chairman.  Sydney FishMarket.  Australia.
---
January 10, 2019
The book is a concise reference guide for thinking about the strategy and tactics of marketing at organisations of all kinds.
I love its emphasis on customer value creation. I will be recommending it to my clients and MBA students.
Angelina Zubac.  Strategy Link.  Melbourne.  Australia.
---
December 13, 2018
The Art of Strategic Marketing War – Pearls of Wardom by Pete Jeans is a gritty straight-to-the-point reference for business owners or those managing a business.
Easy-to-read and reference back to,  the book provides logical and simplistic strategies for implementation into any type or size of business.
Getting ahead is the objective of any business operator and the Art of Strategic Marketing War-Pearls of Wardom gives readers ideas for implementation.
Rating:  4/5. 
Peta Pinson.  Port Macquarie.  Australia.
---
December 11, 2018
This little book – 'The Art of Strategic Marketing War' – is the perfect size to slide into your laptop bag – ready to browse and gain insights on the go.
Packed with marketing wisdom, accumulated over many years of high level experience in the field, it encapsulates tried strategies in simple and plain English.
Pete Jeans generously shares his 'wisdom'. I would highly recommend this little book to business students as it provides a great introduction and overview of marketing strategy in easy to understand language.
I think that business professionals will also find it useful as it provides a fresh look at that which we may already know, but may seem to have forgotten OR are unable to articulate quite as well as Pete does!
Although I personally avoid using a 'war' analogy in my discussion on strategy in my lectures, using it as a framework for this book does seem effective.
I would also like to see an 'extended' version which links Pete's insights with other research and literature that further supports his ideas.
Overall a useful, handy little book, that you can dip in and out of, and provides you with useful insight into the world of marketing strategy. 
Nicole M.  Lecturer in Marketing.  Port Macquarie.  Australia
---
December 8, 2018
With clarity and brevity, Pete takes us on a journey that is unusually approachable and more than helpful.
I enjoyed reading The Art of Strategic Marketing War because the content is both stimulating, pragmatic and applies to all areas of industry.
Leaders of progressive organisations who want better team outcomes, a hand with strategy and a reminder that the classic marketing tenets remain relevant with today's fickle consumers will enjoy the valuable insights and contextual guidelines.
More than ever it is true that good things come in small packages.   
Paul Adams.  Adams Marketing Group.  Port Macquarie.  Australia.
---
November 7, 2018
This readable book gives great tips and techniques for marketing your business, yourself, your services or your products.
Pete Jeans has written a great book with lots of helpful checklists, wittily communicated and well laid out.
This excellent little book punches above its weight. 
Rodney Marks.  Comedian.  Sydney.  Australia.
---
November 1, 2018
Pete Jeans  has presented a terrific marketing and leadership ready-reckoner here. It's full of fantastic practical tips for the new (& not so new) marketing leader.
It's obvious that it has been written by someone who has spent significant time at the marketing coalface, as the guidance and examples are always refined and on-point.
It's a very easy read and the sort of book you always want to keep handy for initial guidance on a marketplace challenge. A mini marketing mentor, if you will.
I commend it to those folks taking their first steps into marketing, through to seasoned professionals who would benefit from an ideas refresh.
I've read many books like this over the years, but this is a good one! Not sure about the 'pearls of wardom' line in the title – but you quickly look past this, as Pete's book provides relevant and practical marketing guidance.
It's a 5 out of 5 from me. 
Dr. Michael Cherry.  Managing Director.  Raffrey Consulting.  Sydney.  Australia.
---
October 29, 2018
This book works well because it draws together so many of the threads that appear in business publications – but it has been done in such an easy to read manner.
It really gets to the point and it obviously draws on the author's considerable experience in the field.
I love the fact that it is concise without sacrificing quality. Its pocket-size is also a great idea…so easy to put in a pocket or bag for those quiet moments of reading in between other tasks.
I would certainly recommend The Art of Strategic Marketing War. I'm looking forward to it coming out as an e-book too.
As to a rating…I would give it 4/5 just because nothing is perfect!
Dr. Suzanne Davis.  Psychologist.  Bathurst.  Australia.
---
October 10, 2018
Great book and a good asset for management! 
Richard J.  TV Sports  Producer.  Melbourne.  Australia.
---
March 5, 2019
A great little book that effectively summarises everything I never knew about marketing ! Well done.
Roo Friend.  Brisbane.  Australia.
---
Feb 23, 2019
The Art of Strategic Marketing War-Pearls of Wardom. Valuable textbook written by my friend Pete Jeans.
Mariam Shahbazi.  Sydney.  Australia.