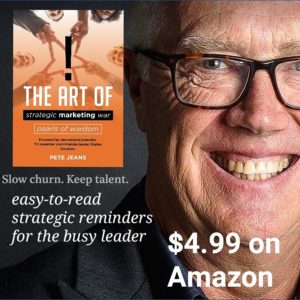 Please contact Pete Jeans here
Founder and Chief of Ideas at IDEAgenda – solving "wicked"  and intractable business challenges
Director at growth project leader – SMO.
Facilitator in "Marketing for Managers" and "Better Decision-Making Analysis" at the Australian Institute of Management  MBA School of Business.
Lecturer  in Human Resources Management, Project Management, Asia Pacific Business, Global Marketing, Organisations & Management and The Leadership Challenge for MBA's and undergrads at Charles Sturt University online around Australia.
Author of an easy-to-read top-of-mind strategic reminder for busy leaders, "The Art of Strategic Marketing War – Pearls of Wardom"  –  is available now on Amazon at this link  It's a new book for Gen X and  Gen Y Millennials around shortcuts and insights for their career development growth.
Co-editor of  the textbook "Marketing", 5th Edition, Wiley Publishers, October 2020.
M. Com. UNSW. ,  B.A. Comm. M.C.A.E. (C.S.U)
---
Pete Jeans has a successful corporate background  in multi-nationals; contributing to  significantly increased profitable  revenue and growth.
In 1992, he founded SMO Sydney as a pioneer in outsourcing of strategic growth services.
His industry  sector experience is wide and deep; which means he  can better apply effective learnings from elsewhere to the challenges at hand.
Contributor to Industry Update Magazine – Australia's largest circulation manufacturing magazine
Accredited contributor to CEO Magazine – a monthly business magazine for CEOs and executives around the world
Former member of the NSW Council of the Australian Marketing Institute. (two terms)
Former member of the National Committee of the "NSW Housing Industry Association – National Kitchen & Bathroom Association."
Former sessional tutor and lecturer at the UWS School of Business
Former member of the Australian Institute of Company Directors
---
Website