At IDEAgenda, Head of Ideas & Customer Trust Pete Jeans says:
At IDEAgenda, we deliver better bottom lines.

IDEAgenda is more than an idea generator and incubator based in Australia. Our ideas and strategies have the potential to tame persistent or "wicked" business or organisational problems and challenges in the private and public sectors.
We develop cut-through viable ideas, strategy and execution to accelerate growth of profit and save money. Here's the key IDEAgenda benefits:
When you need ideas to overcome a "wicked" business problem that no-one's solved effectively, use IDEAgenda
When you need

viable ideas

to succeed through market disruption
When your innovation and creative resources are not performing
When you need an idea to blow the competition out of the water.
When you want to make more and save more
---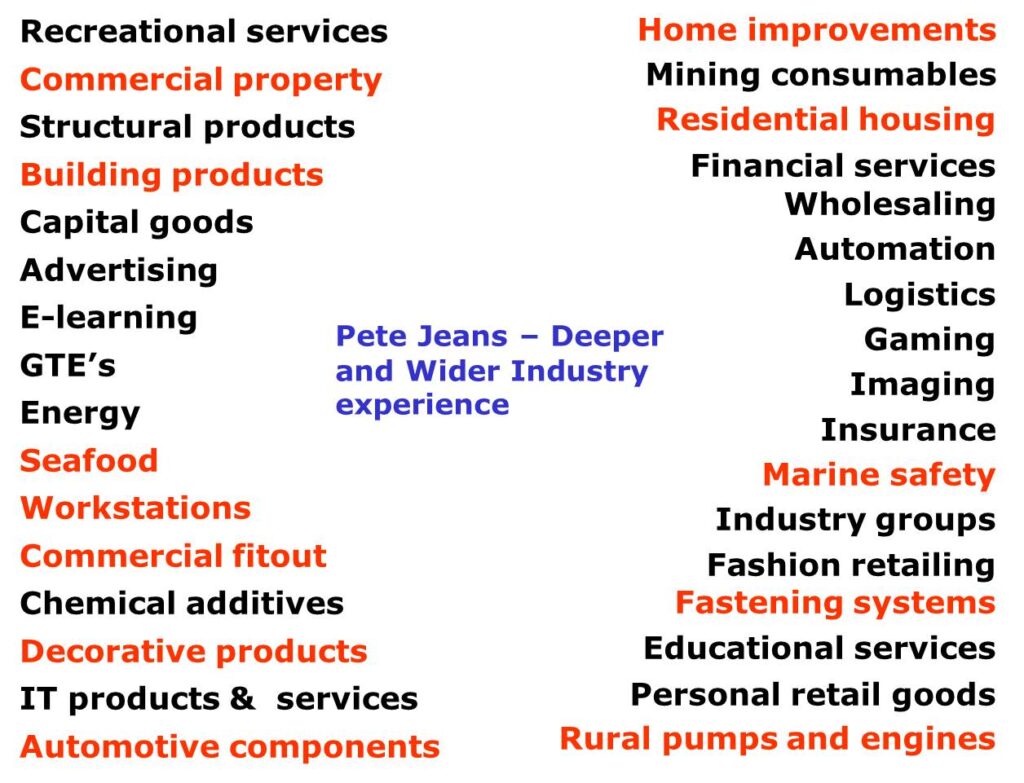 ---
We must find effective ways ( like our workshops ) to build our strategic and operational efficacy so that RONA rates improve to international benchmarks. The US for example is way above our corporate return rates !
And, when it comes to professional growth project leadership, clients prefer to use us when:
Their talent is already committed on other tasks
Incumbents don't have the potential to deliver
They need deep and wide experience with fresh independent strategic eyes to drive results quickly
They need absolute confidential arms-length resources to maintain anonymity on a key project
In-house professional marketing capability is underweight
---
Whether your challenges are around marketing, customer acquisition and dilution management, recruitment, crisis management, team development and leadership, social media attacks, mergers and acquisitions, contract negotiations, product sourcing, export market development, distributor relationship management, greenfields construction, managing upwards, pricing re-structuring and many more scenarios, I have workshops and insights for emerging leaders, stories and solutions that may be relevant for you or your staff at their career stage.
We can help with bespoke workshops, tailored mentoring and inspirational leadership keynotes at your next forum, conference or event?
Here's some ideas that create value for managers:
Are you fully up-to-speed with business planning?
How's your social media analytics expertise?
Business plan templates and guiding workshops will help you understand your business potential and grow it strategically at the expense of competitors.
Are you fully up to speed with the marketing strategies and tactical options available to you to build AND GROW your business or engage your stakeholders, clients and future customers?
Would simple effective business plan templates AND a few weeks guiding you in marketing best-practice… boost your capability in attracting new customers and keeping them PROFITABLY?
Take a pic of this QR code and send it to people who should know about this service
Pete Jeans is a current accredited university and business school marketing lecturer, tutor and mentor in this vital business space.
---
Pete Jeans. Chief Operating Officer at growth project leader – SMO; facilitator at the Australian Institute of Management MBA School of Business; sessional lecturer and tutor in Asia Pacific Business at CSU.
M. Com. UNSW. , B.A. Comm. M.C.A.E. (C.S.U)
Pete Jeans has a successful background as a senior lead-team manager in multi-nationals and Australian private and public sector organisations; contributing to increased profitable growth.
In 1992, he founded SMO Sydney as a pioneer in outsourcing of strategic growth services.
Director at

SMO Sydney

since 1992
Sessional lecturer and tutor in Asia Pacific Business at CSU
Member of the Australian Institute of Management MBA Business School Facilitation Team
Contributor to Industry Update Magazine – Australia's largest circulation manufacturing magazine

Accredited contributor to CEO Magazine

– a monthly business magazine for CEOs and executives around the world
Author of "Pearls of Wardom" – a new book for Generation Y and Millenniums around shortcuts and insights for their career development and growth

available on Amazon here

Former member of the NSW Council of the Australian Marketing Institute. (two terms)
---